The New Order: Last Waltz Expanded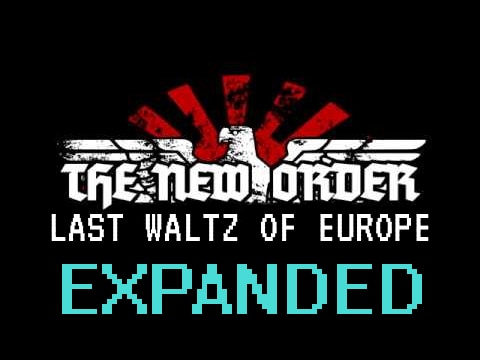 Description:
This is an expanded version of The New Order: Last Waltz of Europe. There are a number of new songs included here that I felt matched the atmosphere of the original submod, as well as several others that I heavily associate with TNO. Some countries, including Germany, Omsk, and the SBA, get unique songs that play under specific circumstances.
The songs have also been rearranged roughly according to which faction (Einheitspakt, OFN, Co-Prosperity Sphere, Triumvirate, Russia) they correspond to, although there is no hard and fast rule and some songs may play regardless of which faction you joined.
Very special thanks goes to Comrade Temuzu, who uploaded the original Last Waltz of Europe and whose coding work made this submod possible.
Very special thanks also goes to Ayden George, the TNO music creator who gave me permission to use his songs in this mod.
Finally, credit goes to my sister's boyfriend who helped me fix several errors in the coding when I was stumped.
Note: This submod includes ALL the songs of the original Last Waltz of Europe, plus the following new songs:
New Songs:
Ayden George
99 Luftballoons
Axis Theme (HOI4)
Burgundian Endsieg
Chained by One Chain (Скованные Одной Цепью)
Deutschlandlied
German Anarchy Theme
Germania's Twilight
Hymn to Taboritsky
I Will Return (Я Вернусь)
Johnny Won't Be Coming Home
Let's Go! (В ПУТЬ!!)
Moskau!
Mother Anarchy Loves Her Sons
State Anthem of the Soviet Union
The Great Trial Awaits
The Gun Pointed at the Heart of Africa
The Partisans Song
The Red Army Strikes Back!
The Revolt!
Totalen Krieg
We Are the Army of the People!
We Didn't Start the Fire
We'll Meet Again
Call of Duty: World at War
Call of Duty: Black Ops
Other
Battle on the Ice
Fortunate Son
OFN Theme
Plastic Love
Right Back Where We Started From
Similau
The Final Countdown
The Last March of the Volunteers
The New Order
The Sacred War
Wir Sind Des Geyers Schwarzer Haufen
Wo Alle Straßen Enden
Want to see more songs in Last Waltz Expanded?
I am now accepting song requests and other forms of feedback. Fill out your response here[docs.google.com].
Download
Revisions:
Old revisions of this mod are available below. Click the link to download.