Larry's Improved States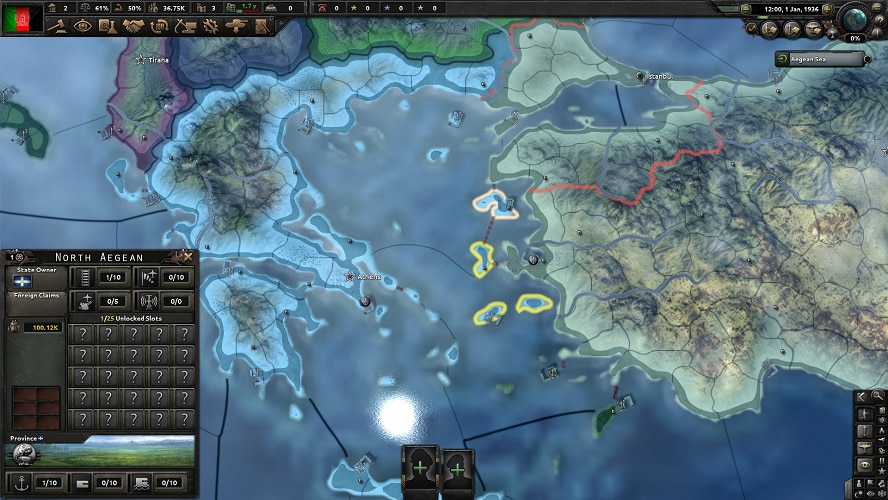 Description:
This is a mod that aims to provide more options for nicer or more strategically minded peace deals or land transfers in game.
As can be seen in the pictures, many states have been broken up into smaller constituent pieces. This mod covers every part of the world, and will be expanded as time goes on, dependent on how many recommendations I receive for new states to modify.
The example in the thumbnail being the Aegean Islands state, which previously included both the islands near Greece and the islands near Turkey, has now been split into three. The Aegean Islands bonus is now simply the islands Southeast of Athens, while North Aegean has taken over the islands on the coast of Turkey. A third state, Lemnos, has been added, through creating a totally new province, to form the two islands south of Thrace. This will allow for a potential situation where Bulgaria owns the islands near Thrace, Greece owns the ones near Greece, and Turkey owns the ones near Turkey.
Another notable change is that the Suez Canal is now an independent state, without Egyptian cores, which allows the British player to potentially release Egypt and keep the Suez, or for a victor against the UK to take the Suez while leaving the rest of Egypt in British/ Independent control.
I have also included an experiment by creating a releasable nation called Newfoundland. I aim to create more releasable nations as they are recommended to me, however I need assistance in getting information about Newfoundland so that I can create more leaders, generals, and party names for it, and the same with any new countries.
Please report any bugs, inaccuracies, or recommendations to me in the comments, and give a like or rating to help boost it so that more can give input.
CURRENT OBJECTIVES:
The most recent update for this mod is to add a number of new states to Russia, as well as changing the borders of many more, in order to hopefully facilitate an easier time making nice borders in peace deals without having to conquer large portions of territory. I will be continuing to edit this as I receive requests and in my own personal guidance.
Additionally, I am still in the process of preparing to create releasable nations for Hong Kong and Singapore, and I am open to receiving requests for more countries to add in time.
Download
Revisions:
Old revisions of this mod are available below. Click the link to download.