Blitzkrieg Decisions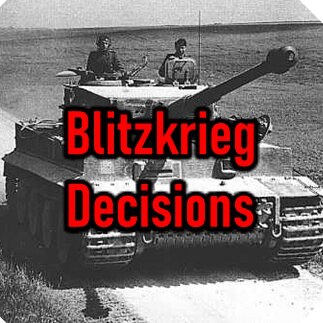 Description:
What does this mod?
Adds to Germany a special mechanic: Blitzkrieg You'll be able to use these decisions, for every country only for once, to make the selected country weaker against you for 180 days. They'll get a debuff for 180 days. (AI will use this decision if it is against a player or major country)
Exception: You can't use this mechanic over Soviet Union, I have a separate mod for that: Barbarossa Decisions
Compatibility
Since I didn't change any vanilla files, it should be compatible with every other mod. (Including RT56)
Future Plans
I do not guarantee it but if I get a chance, I want to:
– Add provincial division speed bonus when this decision is used over any country. I don't know if this can happen yet, but I'll check.
FOR RUSSIAN / ДЛЯ РУССКИХ
If you want, you can use my mod combined with zhirik's Russian Localisation Sub-Mod: Blitzkrieg decision Русская локализация Thanks to zhirik for doing this translation.
For My Fellow Developers
You can use this mod whatever way you like as long as giving me credit in your mod's description about that usage.
Download
Revisions:
Old revisions of this mod are available below. Click the link to download.