German Communist tree (KPD) Updated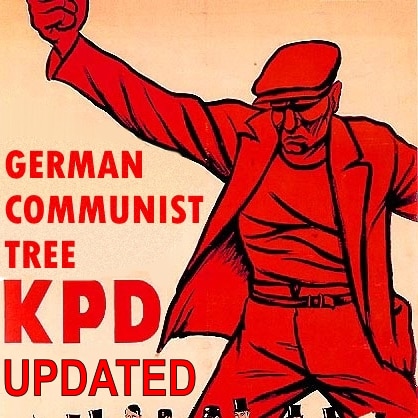 Description:
This mod is 1.11.4 compatible version of German Communist tree (KPD).
The original is by STEPANE.
This mod adds a communist tree for Germany. Waking the Tiger DLC is needed to work.
Current Version: KPD2.0alpha3
I have made this mod compatible with 1.11.4.
I've merged each vanilla-based file with the latest ones (there was still data from a very old version), as well as adapted the code to the new syntax and character system. I also edited some events and focus to support NSB Soviet (especially related to the Fourth International). Then I resolved several errors and loc collisions, added some tooltips, and made various other edits.
Most of the error codes have been removed, but there may still be bugs due to the lack of support for changes in 1.11 and other reasons. Test playing is not enough yet.
Features
(Copied from original description)
– Communist tree for Germany, that goes from focus 'Oppose Hitler'
– 4 branches:
1) Join Comintern
2) Create your own European Socialist bloc, return bourgeois freedoms in your country and align European countries there.
3) Support Trotskyists and realise the World Revolution
4) Create your own Fifth International.
– Ability for German Reich and German Junta to kill Ernst Thalmann
– Ability to create Socialist World Republic
– New radio station with 27 new musical compositions Separated. Please use German Communist Music Mod.
Differences from the Original
Most of it is the same as the original, but as mentioned above, it now supports 1.11.4, and some events and focus have been modified.
In addition, there are the following differences:
– Removed the fascist German flags and one focus icon with HakenKreuz to replace the vanilla ones. This is because I thought that the images included in this mod should only be related to Communist Germany. If you need HakenKreuz, please use other mods that specialize in it.
– The radio station has been deleted. This is because I can't guarantee anything about those musics. Fortunately, the separated German Communist Music Mod works fine with the new version, so please use that.
Notice
When using this mod, it may be better to use the historical game rule for the Soviet Union. This is because there may be a lack of consideration for the non-historical routes added in NSB in the focus availability conditions and event effects.
To go down the focus tree of the Fourth International or Eurocommunism, you need to remove Thälmann in the decision before completing the "Close the Concentration Camps" focus. (I am considering creating an event to notify you about this.)
Feedback
This mod supports Russian as well as English, but this is because the original mod did, and I can't speak Russian at all. (Some Russian entries added in the 1.11 compatible update, such as tooltips and character names, have been added by machine translation).
Therefore, please write your comments in English or Japanese. (I'm not a native English speaker either. This description is also made with the help of machine translation.)
For mod-creators: You can use any content from this mod, just like the original mod.
Download
Revisions:
Old revisions of this mod are available below. Click the link to download.