Apres Moi Le Deluge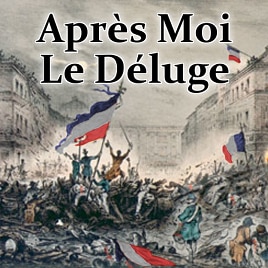 Description:
Après Moi, Le Déluge
Today marks the 70th year since the outbreak of the Republican Revolutions.
The Continental System established by Emperor Napoleon weathered the storm, battered but victorious. The malcontents of the world licked their wounds and bided their time. Radicals and Republicans, Jacobins and Nationalists, all watched for signs of weakness.
Today, the strength of the Continental System will be tested once again.
For an overview of the mod consider one of these Youtube reviews
English:
TheWoodstock (Aug 19, 2016) https://www.youtube.com/watch?v=IzOgqbUeTTA
FeedBackGaming (Sep 8, 2016) https://www.youtube.com/watch?v=Z-Du3v3LBfY
Agrippa Maxentius (Oct 21, 2016) https://www.youtube.com/watch?v=F967j6QI_Io
Polish:
Kalach (Nov 10, 2017) https://www.youtube.com/watch?v=-h6QLXWHaQI
Forum thread:
http://forum.paradoxplaza.com/forum/index.php?threads/apr%C3%A8s-moi-le-d%C3%A9luge.941600/
Discussion server:
Countries with focus trees (shared if on the same line):
Austria
China/Taiping
France
Westphalia/Teutonic Reich
People's Republic of Germany
Italy
Japan
Louisiana
Poland
Baltics/Belarus/Caucasus/Ukraine/Quebec
Russia
Sweden
Turkey
Great Britain
America
Croatia/Serbia/Albania/Bulgaria/Greece
Incorporates the Flickering Flags Fix mod
http://steamcommunity.com/sharedfiles/filedetails/?id=850835220
Special thanks to Kekkerheim for portraits and names, Magdaleno for national leaders, and Tus3 for inspiring the radical focus tree
Thanks to Shiroe, Djamti, Etcetera, Splat Tim, CainIsNotMyEnemy and all the other folks in the suggestions thread
Download
Revisions:
Old revisions of this mod are available below. Click the link to download.