[Classic] Millennium Dawn Submod: South Korea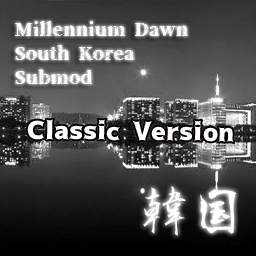 Description:
[For Millennium Dawn Mod Classic]
First, I am not an English speaking person and can not speak English. This mod is a simple submod, but there may be grammatically incorrect English. I'll fix it if you point out the error.
This submod modifies the South Korea of the Millennium Dawn. I added national focus to South Korea and add new political parties, politicians.
[Warning]
This mod only works normally in the millennium don classic version. It does not work with MD4 integrated versions.
For the latest version integrated with MD4:
https://steamcommunity.com/sharedfiles/filedetails/?id=1768900351
Download
Revisions:
Old revisions of this mod are available below. Click the link to download.